The Joint Office Welcomes New Program Staff
June 14, 2023
The Joint Office of Energy and Transportation (Joint Office) welcomed five new team members to the staff. These professionals will bring a wealth of experience in business, policy, and community engagement to help the Joint Office achieve its mission of accelerating an electrified transportation system that is affordable, convenient, equitable, reliable, and safe—ensuring a future where everyone can ride and drive electric.
"To achieve our mission, the Joint Office needs to bring the best and brightest in to tackle the most pressing challenges in building out an extensive charging network," says Joint Office Executive Director Gabe Klein. "I'm excited to leverage the expertise of our new team members to achieve this goal."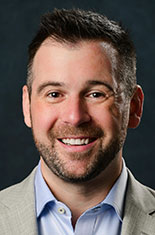 Kevin George Miller, Senior Advisor for Business Models
Kevin George Miller is the senior advisor for business models at the Joint Office. He will lead efforts to develop policies and programs to unleash significant and sustainable private investment in zero-emissions vehicles and infrastructure and will serve as a subject matter expert for clean transportation business models. His focus will be helping communities think through curbside charging, charging in the right-of-way, and other ways to equitably and affordably install EV charging infrastructure.
"Every day at the Joint Office is a unique opportunity to work on the cross-functional challenges, disruptive technologies, and emerging policies that are central to decarbonizing the transportation sector," Miller says. "It's an honor and a privilege to help make best use of the tools provided by Congress to achieve the Biden-Harris administration's ambitious clean transportation goals and scale up private-sector infrastructure investments."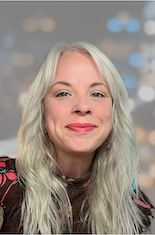 Sarah Hipel, Program Manager for Standards and Reliability
Sarah Hipel is the standards and reliability program manager at the Joint Office. She will lead efforts to review and develop reliability metrics, charging protocols and standards, cybersecurity standards and will provide guidance to states on standard practices and data collection and sharing. She will also support the building of new tools for collaboration and product development for states. Her responsibilities will include overseeing the ChargeX Consortium and building a team focused on reliability and cybersecurity.
"I am excited to bring my knowledge of standards and metric building to the Joint Office," Hipel says. "I look forward to seeing the work of the Joint Office help to bring clean and healthy transportation to everyone."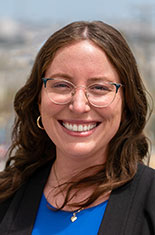 Debs Schrimmer, Senior Advisor for Community and Urban Charging
Debs Schrimmer is the senior advisor for community and urban charging at the Joint Office. She will focus on building out the Joint Office's West Coast presence, as well as developing policies and programs that will advance urban electrified mobility through unique charging solutions. These charging solutions will be designed to support multifamily housing, curb management/mobility hubs, integration with transit and shared mobility, and in other ways that meet the needs of communities.
"My goal will be to make sure we are reinventing the transportation network in an inclusive and equitable way," Schrimmer says. "We want to ensure these investments are serving a diverse range of communities and extending the benefits of electrified transportation not just to drivers but also to people who rely on transit, biking, and shared mobility options."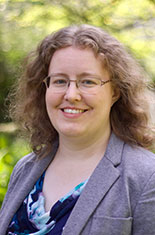 Elizabeth Traut, Technology Manager for EV Charging Analysis
Elizabeth Traut is the technology manager for EV charging analysis at the Joint Office. She will focus on developing processes and tools for analysis and will apply those tools and techniques to perform exploratory analyses and produce technical resources for the Joint Office and stakeholders in the planning, deployment, and performance management of federally funded EV charging infrastructure. She will build practices to extract and analyze insights from a variety of structured and unstructured data and disseminate the results to guide data-driven decision making. Her responsibilities will include serving as the lead liaison for the Joint Office United Support for Transportation (JUST) Consortium.
"I enjoy collaborating with other experts on data analysis to support the shared goal of electrifying transportation in a way that will be affordable, reliable, and equitable," Traut says. "Having a robust understanding of the data is important in ensuring the electric vehicle charging network is operating as intended."
Kavitha Ambatipudi, EV Charging Fellow
Kavitha Ambatipudi is an EV charging fellow for the Joint Office. She is a part of the technical assistance team, providing support for the Western Region and Lower Central states. She is also tracking the progress of state procurements for the National Electric Vehicle Infrastructure (NEVI) program and supports the communications and education team on planning and summarization of its Weekly Webinar Series.
"I joined the Joint Office because I am excited about the significant role it will play in coordinating the buildout of critical EV infrastructure," Ambatipudi says. "I want to help create a future where everyone rides and drives electric!"
Check out the upcoming Joint Office "Who We Are" series on the Joint Office LinkedIn page to learn more about the new team members!