Electric Vehicle Charging Analytics and Reporting Tool (EV-ChART)
The Joint Office of Energy and Transportation (Joint Office) is developing the Electric Vehicle Charging Analytics and Reporting Tool (EV-ChART), which will provide a centralized hub for collecting and analyzing electric vehicle (EV) charging infrastructure data.
Directed by the Federal Highway Administration, 23 CFR 680.112, to reduce the burden on states and communities, charging providers, and other stakeholders, EV-ChART will include one time, annual, and quarterly data submissions required in the §680.112 Data Submittal.
The objectives of EV-ChART are to:
Streamline and standardize the data submission.
Integrate a set of reporting and analytic capabilities.
Empower data sharing across stakeholders.
Connect with other databases and tools, such as the Alternative Fuels Data Center, for further analysis.
EV-ChART is scheduled to launch in early 2024.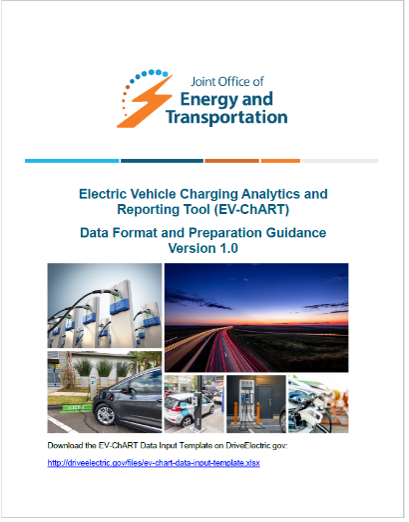 Data Format and Preparation Guidance
Reporting standards for data submissions to EV-ChART are outlined in the EV-ChART Data Format and Preparation Guidance and the format for the data is provided in the accompanying EV-ChART Data Input Template.
Acceptable file format extensions, file sizes, and submission methods will be determined and published later. The required data are organized into nine modules, which are represented as different tabs in the EV-ChART Data Input Template.
Data Submission
The Joint Office EV-ChART team is developing data submission guidance. It will be published at the end of 2023.
EV-ChART Pilot Group Participation
The Joint Office seeks to establish a pilot group of EV-ChART users that will help to refine the functionality and user experience of the tool. Members of this pilot group will provide their feedback on EV-ChART features and capabilities, including testing the data submission process and/or providing mock data.
EV-ChART pilot group participants may contribute to individual and/or group discussions to help shape the development and future operation of EV-ChART. Participants may be asked to review prototypes, concepts, and new features and provide feedback on how EV-ChART user needs and goals are addressed.
At this time, the Joint Office is only requesting participation from two groups:
Direct recipients or those responsible for submitting data.
Subrecipients or those responsible for submitting data on behalf of direct recipients.
As the EV-ChART tool progresses, the Joint Office may engage additional user types (e.g., consumers of the data that are not directly responsible for submitting data) to be part of the pilot group.
If you are interested in participating in the EV-ChART pilot group, contact the Joint Office at evchart@ee.doe.gov.